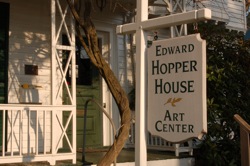 by Scott Baird
This Spring, Nyack's Hopper House will bring some of the renowned painter's best works back to his childhood home on North Broadway. "Edward Hopper Prelude:  The Nyack Years," is an inspirational exhibition which will show how our quaint village contributed to the development of one of the most important American artists of the 20th century. Nyack's Chamber of Commerce is thrilled that the board and staff of the Hopper House have been able to marshal the resources necessary to bring this exhibition to Nyack from May 21-July 17, 2011.
Victoria Hertz, President of the Board of Trustees of the Edward Hopper House, updated the business community and the public about the exhibit at the February Chamber of Commerce "after-hours" meeting last Tuesday.  Supported by loans from the Whitney Museum of American Art and the Arthayer R. Sanborn Hopper Collection Trust, the show will include paintings, drawings, watercolors and memorabilia, some of which have never before been published or exhibited. This exhibition offers a unique opportunity to experience Hopper's work in the very place that helped shape his vision.
Through generous donations and grants, the Hopper House is being renovated so that it meets museum standards to host such a prestigious exhibition. Mrs. Hertz says that art enthusiasts from around the world are expected to come to see the show with 500 early sale tickets have already been sold. Local merchants and business owners are very excited about the additional visitors that this show will bring to our village.
Nyack's Chamber of Commerce looks forward to supporting the Edward Hopper House to make sure this event is a success.  We applaud their community leadership and vision in making this dream a reality. Special thanks to Sour Kraut and Marianne Olive for hosting this month's After Hours networking event.
Scott Baird is the president of the Nyack Chamber of Commerce.