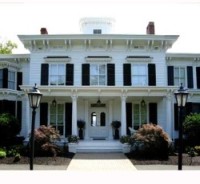 Nyack, Feb 3 — The Wall Street Journal reports a dirty little secret about why Pretty Penny, the famous house on N. Broadway in Nyack that once belonged to actress Helen Hayes, is being sold. The current owner's wife says her husband tracks mud into the house after gardening.
60-year old art dealer Graham Arader says he is now selling the mansion because his family doesn't get to spend enough time in Nyack. But according to the WSJ, Ms. Arader's main complaint is that he tracks dirt inside the house. "I cannot live in [the] country and have a yard because who is going to clean?" Ms. Arader told the paper.
The Arder's purchased the property in 2003 for $7.75 million. Today's asking price is now $5.9 million. According to Arder, it costs about $10,000 a month to maintain. "I misunderstood my wife," Arder says. "On the weekends, there are other things for my children to do. I made a mistake — and that's why the house is for sale," he says.

Source: Wall Street Journal, 2/3/2011
Photo Credit: Ellis Sotheby's Realty