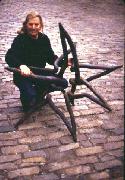 Although Rockland County may not be aware of James Garvey's dispute with his Orangetown neighbors, the artist/blacksmith's land use case is getting the attention of lawyers as far away as North Carolina.
"Land is land, disputes are disputes, and neighborly sensitivities are neighborly sensitivities," writes Mike Thelen at NCLandUse.blogspot.com. "The only thing that seems to change with jurisdictions is the applicable law."
Rockland county native Mike Thelan says Garvey's request to build an art studio and sheds on his 2.5 acre lot in Sparkill bring puts art, land use and zoning laws on a collision course.  Orangetown denied  Garvey's application on the grounds that 'forging and welding' are not permitted under the zoning laws covering his neighborhood.  Thelan says
According to one report, the administrative official charged with the denial stated: "I felt that what he was doing was more than what was typical of an artist. He's doing more of commercial operation. That's how I viewed it." So, then, regardless of the building permit, is Mr. Garvey violating the Town's zoning ordinance? On the other hand, is it proper that an administrative official is determining what constitutes "art" and what constitutes "more than what [is] typical of an artist"?
Garvey has appealed the decision to Orangetown Zoning Board. Thelen, a lawyer specializing in land use and land development issues, thinks a first amendment case might be Garvey's next step should his Orangetown appeal be denied. To read Thelan's full post, visit nclanduse.blogspot.com.
See also: Neighbors oppose Sparkill blacksmith's plan for art studio, Journal News 1/27/2011
Photo: Artist & Blacksmith James Garvey. Credit: Kentucky Arts.org