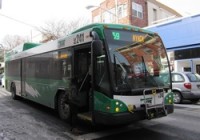 You can learn a lot about about where you live by seeing your hometown through the eyes of others. The CityCures.com website recently visited Nyack via mass transit. They gave the village a thumbs up — but reminded us that if you aren't a local, it's-not-so-obvious how to navigate the Metro North and TZx to get to Nyack, especially on weekends (Nyack Marketing Alert: Here's an easy to fix Metro North signage opportunity for Nyack and Rockland County businesses).
Nyack is not the easiest place to get to, but most will agree its well worth the train-to-bus trek. Situated on the west bank of the Hudson, to get to Nyack you must take the Metro North Hudson Line to Tarrytown and transfer to the Tappan Zee Express Bus that will bring you across the bridge. We set out to do this, but quickly found the bus, which is supposedly a shuttle, rarely comes on the weekend and doesn't seem to follow any sort of schedule.
We ended up taking a cab from the Metro North stop to Nyack which was a little pricey ($30), but split five ways ended up being okay. The lesson here, be ready to pay a little extra for a taxi or be ready to be very patient for the bus.
You can read their full post with pictures and shout outs to the Hopper House, Temptations and the Olde Village Inn at CityCures.com.
Photo Credit: CityCures.com