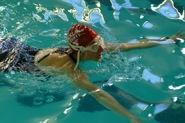 Nyack's only indoor pool is once again open for business.
The Rockland County YMCA closed the pool for emergency repairs to the ceiling caused by a December 2 Nor'easter. '€œWe appreciate the extraordinary efforts of AJC Contractors, along with our staff and volunteers who have worked together to reopen our pool as soon as possible,'€ said YMCA CEO Chuck Maze. The entire ceiling was replaced by the contractor as a preventative measure.
Swim lessons for the winter session will resume, effective January 24th and will run until February 20th. Registration for the seven-week Spring Swim Session begins February 14th with classes starting the week of February 28 and concluding the week of April 17th. The adult lap swimming is sessions are also underway; the pool is open daily from 5:30 am to 10 pm, 6 am to 6 pm on Saturdays and 7 am to 6 pm on Sundays.
A complete schedule for lap swimming, swim lessons, water exercise and family/recreation swimming is available at the front desk or on the YMCA website www.rocklandymca.org.