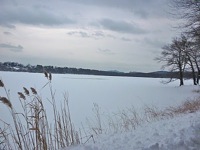 Nyack, Jan 24, 6a — According to Weather.com, the temperature in Nyack at 6a was 1 degree Farenheit. The National Weather Service has issued a Brass Monkey Alert for Rockland County.
Middle School Humor aside, there *is* a severe weather/wind chill advisory in effect this morning:
A Wind Chill Advisory remains in effect until 9 am EST this morning for the interior lower Hudson Valley, New NW New Jersey and the interior of Connecticut.

Bitterly cold wind chills with wind chill values 15 to 20 degrees below zero. Temperatures will be 5 to 10 degrees below zero. Isolated locations falling to around 15 below.The frigid conditions will be dangerous to those venturing outside.
A Wind Chill Advisory means that very cold air and strong winds will combine to generate low wind chills. This will result in frost bite and lead to hypothermia if precautions are not taken. If you must venture outdoors, make sure you wear a hat and gloves.
At 6:30a, the Wind Chill index in Nyack was 3 degrees.
The next Big Weather Day to watch is Wednesday. There's an 80 percent chance of snow, freezing rain and sleet in the afternoon with wind gusts up to 25 mph. The misery continues into the evening with more snow and sleet and moderate snow accumulations. The storm may last into Thursday morning, too.
Source: Weather Underground, Weather.com
Photo: Rockland Lake with Hi Tor in the background. Credit: NyackPhotos.blogspot.com