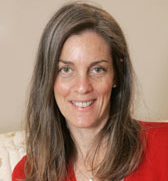 By Tina Traster
In the days leading up to Thanksgiving, we noticed one of our six hens was shrinking. Due to the '€œpecking order,'€ which is a brutal Darwinian reality, Miracle, our barred rock hen, had nearly been pecked to death. Two months earlier, we rescued a cat at death's door. And because of the pecking order among our four cats, I needed to turn the laundry room into his lair. Now I needed to provide similar warmth and protection for a bullied bird.
The guy at the Agway feed store said his '€œgrandma just lets 'em peck the weak ones to death '€" that's just the way it is.'€ Not so for a city girl turned country bumpkin. In my rule book, every animal in my care deserves a fightin' chance.
We have no barn, no outbuildings '€" just a subletted laundry room and a cold, unfinished crawl-space basement with mice. Only one solution remained in our ever-shrinking house. We bought a large dog crate, filled it with pine shavings and bowls and placed it in our 4-by-6-foot downstairs powder room.
In the early hours and days, we covered Miracle's wounds with antibiotic ointments left over from the cat rescue. We were on a vigil the first 48 hours. We gave her extra mealworms and tomatoes. And a lot of encouragement.
Soon, a new normal '€" a relative word in our household '€" set in. The only bathroom we could use was upstairs. Having '€œto go'€ became competitive. Pine shavings were sticking to our shoes and slippers and migrating to every room. I closed the vent in the downstairs bathroom because the blowing hot air was turning into a mélange of pine shavings and chicken poop.
Three weeks later, Miracle was recovering slowly.
But it was the holiday season. We had a handful of invitations for dinners and get-togethers out to friends and family. (Luckily, though, we were not hosting Thanksgiving).
It's hard enough to explain to guests why we have five cats '€" but a chicken living in the house? Way too complicated. So, we put in place Plan B. If anyone asks, '€œWe're having plumbing issues in the downstairs bathroom. Use the one upstairs.'€
For the first dinner party, our guests congregated in the dining room, which is on the opposite side of the house from the bathroom. Amazingly, no one needed to go. A week later, we had friends who spent time with us exchanging holiday presents in the living room, which is next to the bathroom. My husband, Ricky, played deejay that night, careful to keep the music going to camouflage Miracle's gentle clucking.
During the chicken's convalescence, the bathroom walls were doused with tomato juice. The floor resembled a dusty saloon. Pine shavings nestled in the vent and along the moldings. Cobwebs grew. After six weeks, the bathroom resembled a small barn.
Finally, Miracle earned her name and recovered fully. But farmer Jim, who sold us Miracle, warned us our brood was not likely to welcome her back. His best advice was put her back in the coop at night while the others are asleep; sometimes you get lucky because the hens don't realize she was ever gone.
We put her in the coop that night, but the next morning, when we let the birds into the run, the brutality started immediately. It didn't take but a few hours before they pecked bare a section of our newly healed bird. This was Dec. 24, two days before the post-Christmas blizzard was scheduled to hit.
Much as we love her, we knew Miracle needed to stop living in a dog crate in our bathroom. We devised a quick plan. My husband purchased a medium-size doghouse, which we put in the middle of our dormant vegetable garden at the other end of our property. Then he built reinforcements and covered the 8-by-10-foot enclosure with deer netting. To protect Miracle from the coming storm, we added blankets and tarps.
Miracle looks like a queen in her new digs '€" a solo occupant who's enjoying the peace. I don't know what we'll do this spring when it's time to plant vegetables and fruits in the garden. I guess we'll do what we always do: improvise.
Tina Traster writes the New York Post's '€œBurb Appeal'€ column and the '€œThe Great Divide'€ at HuffingtonPost.com. '€œBurb Appeal: The Collection,'€ a set of Tina's columns and articles, is now available in print and as an eBook at Amazon.com.