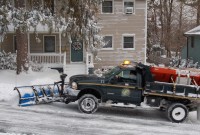 Nyack, December 11 — There was brisk trading on milk and white bread futures yesterday as the NY Metro area prepared for its third big snowstorm of the season on Tuesday night.
The National Weather Service has issued a Winter Storm Watch through mid-day Wednesday for a snow storm with a total accumulation of 6-14 inches. The heaviest snow is predicted to fall after midnight on Tuesday into early Wednesday morning. Strong winds with gusts from 25 to 35 mph are expected with visibility at times less than 1/4 mile.
Victor Overton, Nyack's Superintendent of Public Works, offers these suggests for the upcoming storm:
Everyone please observe and comply with all on-street parking regulations during the snow event.
If you have off-street parking available for your vehicles, please make use of it. This would help us to push back the snow on the roadway quicker and more efficiently.
Assuming that the track of the storm will deliver significant snow fall on Wednesday, Village garbage service will be suspended on Wednesday, and resume Thursday.
Don't place your garbage cans in the street as this hinders the DPW's plowing efforts.