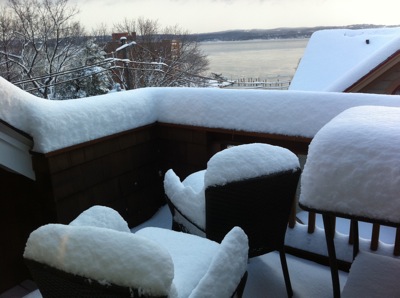 Nyack, Jan 12, 2011 — Nyack Public Schools are closed today as the village hunkers down after the third big snow fall of the 2010-2011 Winter. The updated forecast from WeatherUnderground and the National Weather Service calls for total accumulation of 8-12 inches in Nyack and 10-15 in the Lower Hudson Valley. A Winter Storm Warning is in effect through noon today.
Village garbage service is suspended today and will resume on Thursday. Neighborhoods scheduled for recycling  today will have to wait two more weeks: Nyack's Village Administrator Jim Politi says Miele Sanitation, the vendor responsible for picking up recycling in the Village of Nyack, won't be collecting today.
The DPW reminds residents and businesses to park off-street if possible to make it easier for the Nyack's four snow plows to clear the roads.