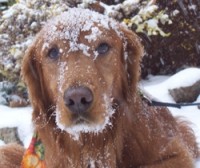 Nyack, Jan 7 at 8a — Although most NYC area municipalities are just catching their breath from the day-after-Christmas pounding, The NY Metro area braces for its first snow of the year on Friday.
Locally, Rockland Country Day School decided to close before the first snowflake hit the ground. Cancellations.com Website says the Pearl River School District is planning an early dismissal. Nyack schools have not reported any adjustments to their schedules, yet.
WeatherUnderground.com, a reliable source for localized weather info, says there is a 100 percent chance of 2-4 inches of snow today with a total accumulation of up to five inches until its all over tonight. If you venture out, bundle up:  tonight's low will be 17 degrees.