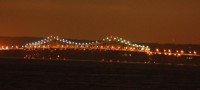 Tarrytown, January 27 — With barely ten hours to spare, an unmanned runaway barge was apprehended as it broke through its moorings and made a beeline toward the unsuspecting metropolis down stream at the mouth of the Hudson River.
If this sounds like big news — it really isn't. But this local story made the AP wire and found its way into the NY Times, Wall Street Journal and WEAR-TV in Pensacola, FL.
The barge, which was being used for maintenance on the Tappan Zee Bridge, was AWOL for about two hours moving at the snail's pace of two miles per hour. According to the NY Times, the NYC Police Department sent a helicopter and two harbor boats to check it out.
What do all of these organizations have in common? It's a sure sign that everyone is getting tired of dealing with snow days and is just looking for a little distraction.