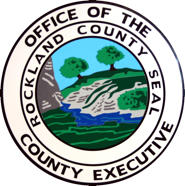 Moody's has cut the rating for bonds issued by Rockland County indicating a higher risk for buyers and a decreased faith by the investment community. A lower rating makes it more difficult and expensive for a municipality to sell bonds.
"We believe that the county's financial position is likely to continue to deteriorate over the near term,'€ writes Bloomberg.com quoting a Moody's report. The county's general-obligation bonds have been lowered from Aa3 to A1, Moody's fifth-highest grade.
The 2011 Rockland County budget included a $46 million deficit by the end of 2010 and a $77 million deficit by the end of 2011, according to auditors hired by the Rockland County legislature.
Included in the 2011 budget was a controversial proposal to sell the Summit Park nursing facility to a yet unnamed public benefit corporation. This would bring in $18 million in revenues to the county, according to County Executive Scott Vanderhoef. "We are proposing a '€˜revolutionary' concept in the manner in which municipalities manage and finance nursing care facilities," Vanderhoef wrote to the Rockland County Legislature on October 23. Last month legislators expressed their skepticism about this plan during the budget vote. This week, Wall Street weighed in with a reduced bond rating for the county.
Rockland County Legislator Edwin Day wrote a resolution last month which asks the NYS Comptroller to perform a full audit of Rockland County government operations, internal controls and budget review procedures. '€œWe are faced with a projected $47 million year-end general fund deficit that could increase to $80 million by the end of next year with declining revenues and escalating expenditures.'€
Those familiar with the problem say another downgrade was possible if the county can't sell Summit Park.  If the bond rating continues to fall, the state might be forced into taking over county finances and put a Financial Control Board in place to oversee the county, a move that is equivalent to being in receivership. In addition to increased taxes to pay for a higher interest rates on future bonds, businesses might think twice about relocating to Rockland if they don't have confidence in the county's ability to maintain infrastructure and hold down taxes.
"This downgrade should be a clarion call as to why we need this audit," Day said. "We need to get 2011 right."
Investors are more skeptical of purchasing lower-rated bonds. Therefore, municipalities must make the bonds more attractive by increasing the bonds' yields.  This increases the cost of borrowing money for infrastructure and other capital improvement projects, which benefit local economies by producing jobs, and by making communities more attractive for both residential and commercial real estate investors.