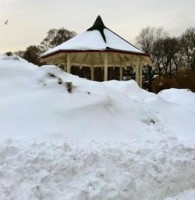 We don't have to wait until Ground Hog Dog to learn whether we will have another few months of Winter. The weekly announcements from the National Weather Service tell us all we need to know about this Winter of Our Discontent.
Here's the latest from the The National Weather Service:
A Winter Storm Warning  is been issued for heavy snow, sleet and freezing rain, beginning 6a Tuesday through 7p Wednesday for the Lower Hudson Valley and northeast New Jersey.

Accumulations of 7- 12 inches are expected with locally higher in Orange County. Up to a half an inch of ice accumulation by late Wednesday.

The snow will begin after midnight Monday continuing through much of Tuesday, transitioning to a wintry mix Tuesday afternoon before becoming intermittent Tuesday evening.

Heavy snow and sleet develops late Tuesday night and continues into Wednesday morning. The precipitation is then expected to change to a mix of sleet and freezing rain Wednesday afternoon before tapering off late Wednesday.

Travel will be impacted Tuesday through at least Wednesday evening. Snow and ice accumulations will make for dangerous travel. Ice accumulations will likely knock down tree limbs and power lines.
Source: National Weather Service