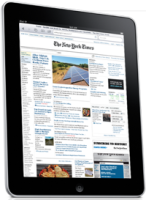 by Dave Zornow
Nyack, Jan 1, 2011 — History is a funny rear view mirror. Unlike a real mirror, some objects actually get larger as we move away from them as we realize their greater significance and impact over time. Although stories like Haiti and Health Care Reform dominate the Top Ten list of most important stories of the year, some day we may look back at 2010 and remember it as the birth of the iPad and the year when most baby boomers discovered Facebook.
The Internet has transformed the way we shop, read the newspaper, communicate and check the weather. If you are in business — or hope to remain in business in the future– you ignore the Internet at your own peril.
For the generation that grew up with Kodak Instamatic cameras, this week marked a significant digital milestone. The days when you would go to the drug store to process your prints officially ended on Thursday December 30 when the last roll of Kodachrome film was processed by the last Kodachrome photo lab in the world, Dwayne's Photo in Parsons, Kansas. The digital revolution has taken another victim.
There's no precise way to profile the Nyack River Villages online, but the Google Analytics statistics for NyackNewsAndViews is a pretty good surrogate. We produce at least one story of interest to Nyack readers every day. Throughout 2010, we served almost 410,000 page views — which is significant traffic for three villages with only about 10,000 adults 25 or older.
Here are a few noteworthy statistics:
During 2010, NyackNewsAndViews received over 56,000 unique visitors. Street fairs, July 4th, the Halloween parade, etc inflated this number far beyond the population of the Nyacks.
68 percent of site visitors have a Windows PC. 26 percent are Mac users. The remaining six percent are on iPhone/iPads, Android phones or Linux users.
If you noticed how many Macs and iPhones we own, you won't be surprised to hear that Nyack Internet users are three times more likely to be using Safari on a Mac than the average US Internet user. Internet Explorer  — which at one time had more than nine out of ten users in its camp, now commands about half of browser usage in the Nyacks (47 percent) and the United States. Firefox for Windows has a 16 percent share followed by FF for Mac at eight percent.
If it feels like half of your neighbors are switching to FiOS — you are just about right. Cablevision, which had a monopoly on consumer broadband Internet service in Nyack only five years ago, is just slightly ahead of Verizon service. Cablevision subscribers account for 29 percent of all NyackNewsAndViews visits; FiOS accounts for 27 percent.
About 45 percent of visits come from people connecting from home with about 30 percent checking "Nyack's local news without the paper" from work. These estimates  are based on the Google Analytic "T1 Line" counts which are assumed to come from people at work. If dial-up isn't dead, it's on life support: only about six percent of site visits have a slower dial-up account.
Daily usage: About 400 people a day visit NyackNewsAndViews. For local businesses that advertise on the site, weekly totals of the number of people who see each display ad are provided. Only one ad is included per page, so that number is exclusive to each ad or story that runs on NyackNewsAndViews.
That's who we were in 2010. Keep reading to find out who we will become in 2011. Have a Happy New Year.
-dave zornow, editor
NyackNewsAndViews.com
ps: if you want to know more these statistics or are interested in advertising, please email us.