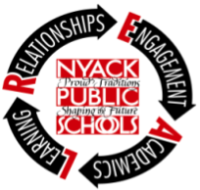 Nyack High School kicks off its second semester on Monday with special 17 minute classes in a half day session. The short sessions will include workshops covering health and wellness topics such as nutrition, meditation, prevention of crisis, suicide, substance abuse, violence, sexual harassment, biomedical HIV, internet safety, bullying and bias.
Students will get to hear from staff and community members during the 7:30a-10:30a school day which will limit the loss of class time for those who need to make guidance department  appointments.
Students have been asked to sign up for workshops in advance and will be excused from class to attend these sessions.
Source: Nyack Schools