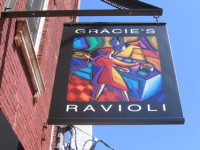 By Doug Foster
Nyack, Jan 16 — Gracie's Ravioli, Nyack's much beloved local Italian market, closed its doors yesterday.
Owner Mike Angarola used today to start selling off his remaining inventory. He says once he finally decided to close, he got the best night's sleep in a long time.
Gracie's was named after Angarola's mother, Gracie Friscia Angarola, the fourth of eight children born and raised in New Rochelle, NY. "Cooking and family were her greatest passions," writes Angarola on Gracie's web page. "My fondest memories are of her and my grandmother making their own pasta and ravioli from scratch. Gracie's Sunday gravy (sauce) was the envy of the family."
Angarola says he and his mother spent many years sitting at the kitchen table talking about his dream of opening an Italian specialty shop someday. After his mother passed away, he says that dream became his mission.
Angarola says a deal last Fall to sell Gracie's to a new owner fell through at the last minute.