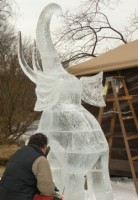 Get outside this weekend and remember a time before ice cream and cold drinks in the summer. Celebrate Rockland Lake's "frozen" history at the fifth annual Knickerbocker Ice Festival on Sat-Sun Jan 29-30.
In 1835, three businessmen came upon a frozen lake in Rockland County, cut out a sloop load of ice and sold it for a profit beginning the 80 year history of ice harvesting at Rockland Lake. Restaurants, hotels, fishmongers and butchers throughout the NY Metro area were clients with the business reaching its peak during the 1880s.
The two day Knickerbocker Ice Festival includes an "Ice Gallery"  with historic images of Rockland Lake frozen into huge blocks of ice, a KIDZ Ice Park with bowling, igloo building and snowball throwing. Four ice-carving artisans will compete for a "Best In Snow" trophy voted by the public. Rob Patalano, one of the festival's founders, will be creating a large sculpture that pays homage to Rockland Lake.
The festival will be open on Sat Jan 29 from 11a until dark and on Sun Jan 30 from 11a to 4p. Admission is free but there's a $6 fee for parking. Visit KnickerbockerIceFestival.com for an agenda of events.
Sources: Knickerbocker Ice Company history, KnickerbockerIceFestival.com