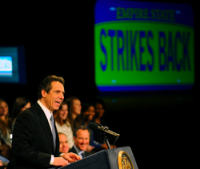 Albany, Jan 5 — Striking a balance between the state's desperate financial situation and the its rich history, New York Governor Andrew Cuomo gave his first State of The State address on Wednesday. "We are at a time of crisis that has been created by national economic pressures, out of control state government costs and a dysfunctional political system that has lost the trust of its people," Cuomo said. "And yet, New York's assets, legacy and tenacity suggest we can turn this crisis into an opportunity to fundamentally remake our state into the progressive capital of the nation."
Cuomo spoke at Empire State Plaza Convention Center, instead of the traditional NYS Assembly chamber, inviting about 1,000 members of the public to offset the chilly reception expected from senators and assemblyman.
His speech offered several new initiatives:
An emergency financial plan to close a $10 billion deficit in the 2011-12 budget without raising taxes or borrowing. The plan calls for imposing a one-year salary freeze on most public employees whose contracts are up for renegotiation in April.
Rightsizing Government: Creating a Spending and Government Efficiency (SAGE) Commission to reduce the number of state agencies, authorities, and commissions by 20 percent.
Redesigning the Medicaid program to save money in in time for the 2011-12 budget.
"It's not just the state government that is overgrown," said Cuomo. "Local governments have also multiplied. There are more than 10,500 local governmental entities." Cuomo proposed funding up to $100,000 of the cost for local government mergers and dissolution studies.
Redesigning Education: Create incentives that reward school districts for improving student performance and implementing management efficiency policies.
A '€œClean Up Albany'€ agenda for campaign finance reform that includes publicly financed elections and limited campaign contributions. Cuomo also championed an independent redistricting commission and a '€œpay to play'€ law to limit the impact of special interests.
Describing his plan as a "roadmap for transformation," Cuomo said these initiatives will "allow New York State to become the Empire State in both name and spirit again." Cuomo called on legislators to join him in enacting his plans. "The actions it calls for are bold and they must be acted upon," he said.
The full transcript of the governor's State of The State speech is available at www.governor.ny.gov.