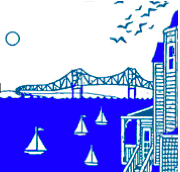 by Scott Baird
Nyack's Village Board demonstrated farsighted leadership by expanding the village's economic opportunities with two votes last week.
Reducing fees to film in the village from $25,000 to $4,000:  This more reasonable fee is in line with the fees charged by other villages and towns in the Hudson Valley.   This significant reduction should serve to attract more filming to our village.  Filming TV shows and movies in Nyack will have a great positive impact on our local economy.

First- filming crews need food and other supplies.  Our local merchants will have the first opportunity to compete for this business.  Second- films and movies can create a "celebrity" feel to neighborhoods, streets and even local businesses.  Filming provides free publicity to Nyack.  This will result in more visitors to the village- more economic activity- more excitement about Nyack as a place.  The board will still be able to manage potential disruptions through the permitting process- but filming will not be excluded by an unreasonable fee.

Significantly reducing the fee charged for subdividing a property from $5,000 to $250: Typically, a property owner subdivides and then sells off the new parcel intending to construct a new building on the new property.  The end result is additional property on the tax rolls reducing the tax burden on the rest of us.  The zoning and planning boards are already in place to make sure that the new development is in keeping with our established "responsible development" principles.
The village board has removed two unreasonable fees as barriers to economic activity and demonstrated that they trust the established permitting processes to control any possible disturbances.  What a great way to start off the new year!
We at the Chamber of Commerce of the Nyacks applaud the Village Board and  look forward to additional opportunities to work with the board in encouraging economic growth and removing outdated barriers to economic activity.
Scott Baird is the president of the Nyack Chamber of Commerce.