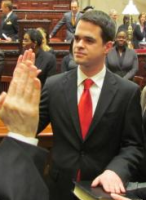 by Dave Zornow
Suffern, January 30 — When Rockland County's NYS Senator re-enacts his swearing in ceremony today at 12n at SUNY-Rockland (RCC), he will have a lot to celebrate. This month David Carlucci became the youngest senator in New York state history, left the Democratic caucus, joined three other bolting Dems to form a new caucus, was named to a committee chairmanship and was voted by CityHallNews.com to be one of the "winners" in NYS politics. He also managed to slip away from Albany long enough to get married, too.
The 29 year old Carlucci kicked off his busy month joining Senators Jeff Klein, Diane Savino and David Valesky to form a new Independent Democratic Conference. Savino emphasized that although the new caucus would be independent of Senate Democrats, it would remain faithful to democratic principles. '€œThe Independent Democratic Conference will allow us to make a clean break from the dysfunction that has defined Albany for far too long and allow us to govern in a manner that our constituents expect and deserve,'€ Savino said.
Although joining the conference was consistent with his campaign promises, Carlucci's move raised the eyebrows of political insiders. "Carlucci campaigned as a reformer. That message got him elected," said Cliff Weathers, who writes about politics in the Left Of The Hudson blog. "If Carlucci did vote for John Sampson as majority leader, he could be viewed as being hypocritical. However, he stuck to his values, and you really have to admire him for that, regardless of your political affiliation."
Others cautioned that dangers lurked ahead for anyone who steps out of line in Albany. "In the Music Man, Professor Harold Hill was warned that 'you gotta know the territory.' Carlucci has never worked in Albany and I doubt that he has spent much time talking to his Democratic colleagues," said one veteran of NYS politics. "Does he know the territory — or is he just doing this to get headlines?" And although Carlucci and the other independent Democrats are trying to make a point about the Democratic Caucus' leadership, they are also ignoring Jim Croce's time-tested advice about not tugging on Superman's cape or spitting into the wind. "It stands to reason that if you cross the leadership by bolting from their caucus the Democratic leadership will find ways to screw you especially if they now regard you as a traitor," said another observer. Carlucci accepted $700,000 in campaign contributions from the Democratic Senate Caucus last Fall.
Still, by month's end, Carlucci and the other caucus members seemed to have weathered the political firestorm so far having received their new committee appointments. Carlucci will chair the State Senate's Administrative Regulations Review Commission, a group charged with reviewing rule making from both state and federal agencies. "This role fits me perfectly," said Carlucci, who has plans as committee chairman to make state government more efficient and user friendly — with special attention given to the Metropolitan Transit authority. "We need to take the MTA to task and make sure they are doing what they are supposed to be doing," he said.
On January 19, Carlucci announced that he would draft legislation to revamp laws governing Inter-Municipal Employee Benefit Cooperatives. "Encouraging municipalities to pool their employees under one healthcare plan will create more purchasing power, better rates, and lower costs that can be passed on to taxpayers." Carlucci said the new legislation will make it easier for adjacent municipalities to form local benefit cooperatives and reduce the costs for duplicative services like healthcare and payroll. Currently, NY State law prohibits these cross government agreements. Later that week CityHallNews.com voted Carlucci one of its weekly "winners," quite an accomplishment for a politician who had been on the job for only three weeks.
When Carlucci is sworn in at RCC at 12n today, it will be his third "oath" of this month. In addition to his official swearing in ceremony in Albany on Jan 5, Carlucci said "I do" to wed  Lauren Grossberg in Hilton Head, NC on Jan 15. The new Mrs. Carlucci is a 28 year old  elementary school teacher and a Rockland County native.
"My passion is helping people and making government do what it is supposed to do," says Carlucci. But no one should get the impression that working in a famously dysfunctional state house is all fun and games. "I've refused to get caught up in the drama about where people sit or what size office they have," he says, referring to the fuss last week when Democrats protested GOP Majority Leader Dean Skelos move to allow Carlucci and the other Independent Democratic conference members to sit together in the Senate chamber. "I know my constituents could care less about the accusations and the motivations. I refused to get involved with it," Carlucci said. "We need to think about the next generation — not the next election."
The public is invited to David Carlucci's swearing-in ceremony at Rockland Community College from 12n-2p today (Jan 30) in the cafeteria of the Cultural Arts Building at RCC, 145 College Road in Suffern, New York.
Sources: CityHallNews.com 1/21/2011, Albany Times Union 1/25/2011,