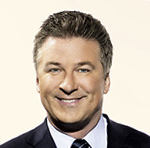 Film and TV star Alec Baldwin returns to Rockland County for a lively evening of conversation on Saturday, March 19 at Nyack High School. WQXR radio host and ArtsRock Artistic Director Elliott Forrest will speak with Baldwin about entertainment and his award winning movie and TV career.
Currently starring in the hit comedy series 30 Rock, Baldwin is a prolific actor who has appeared in numerous movies including Bettlejuice, Working Girl, Hunt For Red October, It's Complicated, Glengarry Glen Ross, Running with Scissors and The Departed. He has also made multiple appearances hosting NBC's Saturday Night Live.
The Saturday, March 19 at 7:30p event in Nyack High School's auditorium benefits benefits the local arts' organizations, Arts Angels and ArtsRock.
Tickets are $25 in advance and $30 at the door. Student tickets are $15 in advance.  A limited number of $100 premium seats includes a local, private after-party with Alec Baldwin. For more information and to order tickets, visit ArtsRock.org or call 866-811-4111.