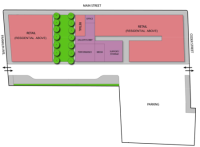 by Dave Zornow
Nyack, Dec 3 — Tuesday night's meeting about an arts' center in Nyack included attributes of a production that a future Superblock theater might like to host: commitment, disappointment, class struggles, high finance, loyalty, betrayal and broken promises. And because it was in Nyack, there was lots of talk about parking, too.
About 100 people attended the presentation by James Lima, a principal at HR&A, the lead consultant hired by the Village Board to conduct a financial analysis regarding redevelopment of several blocks in downtown Nyack. Although the presentation succeeded in its goal of putting market-based numbers behind the dream of an arts center backed by a mix of retail, residential and commercial properties, many in the audience seemed to want more than what was offered.
The consulting team presented four options to redevelop the property on Main Street in Nyack where Riverspace, a strip mall and the M&T Bank now sit. A fifth option, which would make alterations to the property currently owned by the village without purchasing two privately held parcels, was also discussed. In each scenario, Nyack would make $9.7 million in improvements rearranging roads, improving the streetscape and building a one story parking garage. A private company, receiving a return on investment of about 12 percent, would develop the residential, retail and commercial components in addition to an arts center.
HR&A presented four options based on community input collected last summer:
Movie Theaters: Renovating Riverspace into a multiplex cinema is the least expensive option with a total development cost (TDC) of $46.6M requiring fundraising of $7.5M to make up capital construction revenue shortfalls.
Another option is building an Arts and Media Incubator, envisaged as a flexible space to support multiple smaller arts projects. '€œThe goal would be to introduce the greatest number of different types of arts events,'€ says Lima. With a TDC of $56.2M, HR&A estimates that this configuration will require $6.5M in gap financing.
A '€œblack box'€ theatre, offering 300 seats, would cost $76.4M to construct and require an additional $20.2M in gap financing.
The most ambitious plan builds a 1000 seat regional roadhouse requiring $45.5M in gap financing at a total development cost of $107.5M. This configuration would offer more seating than Riverspace and would match the capacity of the Lafayette Theatre in Suffern.
Lima says HR&A and their consulting partners based their estimates on similar arts venues in Westchester and Bergen counties as well as input they received from the NYC arts community. Estimates for residential, commercial and retail space are based on projected market rates.
'€˜It was terrific to see in black and white the feasibility of a self-sustaining arts center as anchor of super block makeover,'€ said Nyack resident John Gromada. '€œIt confirmed for me that the idea of an arts center is not economically feasible without huge amounts of philanthropic and government support never before seen in Rockland County.'€ Gromada thinks the revenue projections and fundraising needs are overly optimistic. '€œThese rosy numbers suggest that in order to support such a project, some measure of gentrification would need to occur, or would result '€" making it harder to get a consensus needed to move ahead with such a large project.'€ Gromada, among other members of the audience, wonders why a scenario without an arts anchor wasn't also discussed.
Both arts supporters and project skeptics expressed their frustrations at the meeting. '€œAll we do is put up roadblocks to doing what we want,'€ said Riverspace board member Michael Aroughei. '€œIf we're not going to do this, then let's stop talking about it,'€ he says. Several residents, concerned about the cost, the increased traffic and the location of a new parking garage wanted to know what was in this for them. '€œWhat are we getting in value for our property?'€ said Nyack Planning Board Member Daniel Jean-Gilles. He questioned the viability of an arts center in Nyack, pointing to the previous closures of the Helen Hayes Theatre and Riverspace.
Chamber of Commerce President Carlo Pellegrini acknowledged that HR&A was in a difficult position as much of the audience wanted more than the presentation offered. '€œIt seemed that half the audience was pointing a finger at HR&A accusingly as if they were telling us what to do.'€ Pellegrini says it was made very clear that the options presented were only scenarios and it's up to the community to decide which course to take. '€œThis is a very complex project. It has more plots, subplots, stakeholders and agendas than a Dickens novel.'€ He says the village now needs to recap the highlights of the evening, look at the project from all the different viewpoints and then decide next steps.
One arts insider thinks Superblock development is less Dickens and more Dan Brown, suggesting all of this is a done deal and the public presentation is just window dressing. '€œThe cultural component will be decided by the Riverspace board including how it will be funded and what the long term rent and the cultural component will be,'€ says one arts observer. '€œThe idea that the public has a say is being nicely orchestrated.'€ Because Riverspace holds a lease, they ultimately have the option to buy the property. '€œThey have put their substantial money where their mouths are.'€ Although not mentioned at last night's meeting, the study was paid for by a gift from Rosie O'Donnell who lives in South Nyack. '€œRiverspace has a deep pocket philanthropist who paid for the current study, who is a proven theater producer and business operator and who obviously is in this with a goal in mind that has not yet been explained.'€
The next step in the process is to put together a Request For Expression of Interest (RFEI) document to send to developers. Lima recommends this approach, instead of a request for proposal, because Nyack has yet to decide what it wants to build — if anything at all. "You need to be clear aboout what you want to do before you can approach developers," Lima says.  '€œThe Village Board decides what will go into the RFEI,'€ says Nyack Mayor Richard Kavesh. '€œThis is where the village tells developers what we want to see.'€
See also: