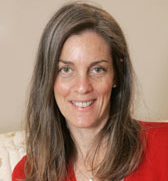 By Tina Traster
Silly me for forgetting the second Sunday before Thanksgiving is a national holiday.
National Leaf Blowing Day comes around every year two weeks after Halloween and two weeks before the re-enactment of the pilgrim feast. NLBD, we'll call it. It's not the kind of holiday that prompts mall stampedes, newspaper supplements or costumes. (Well, more on that later.)
Rather, it's a collective, lemming-like dance to bag fallen leaves in time for the town's Department of Public Works to whisk away autumn's detritus.
Knowing the pickup deadline looms, folks along country roads and in cul-de-sacs people you never otherwise see pour from their homes to participate in an annual rite of passage. Like the shofar sounded on the Jewish New Year, the rousing roar of leaf blowers rises upward in a splendid song of cleansing, turning a Sunday into a six-aspirin day.
But as I said earlier, I hadn't remembered when I woke that Sunday it was NLBD. My husband and I were in bed luxuriating with the newspaper, because for a change we had the house to ourselves. Our daughter was at Granny's for a weekend sleepover.
It started like clockwork and I say that literally because 11 a.m. is the time town dwellers with power tools are permitted by local laws to deprive others of a day of peace. At the first jarring blast, I ran to my daughter's bedroom window to see a neighbor in the grass dressed like an alien. A metal jetpack on his back, he looked like the grandfather in Chitty Chitty Bang Bang; his giant earphones were straight out of 'Is it real or is it Memorex?' commercials. Then I saw the tube-like attachment creating a swirling eddy of dead leaves.
"Oh noooooooooo," I bellowed. "It's the leaf blower."
I knew the cacophony would continue for hours: 1) because power tools are fun; 2) because we live on a mountain with a lot of trees; and 3) because men left on their own on a Sunday can easily find themselves in a trance.
Seeing my face twisted with agitation, my husband said, "Let's go to the lake and take a walk."
On this gorgeous blue day, we arrived at the lake path. The warm sun belied the changing season. Only yellowed maple leaves were still clinging to trees. I took deep breaths, grateful for the escape.
Then I heard it.
'"What is that noise?" I asked.
"Don't look," my husband said, shielding my eyes.
Too late. Not far off the path, an army of deployed county workers were blowing leaves.
"This is a park!" I crowed. "Why do dead leaves need to be hauled away from a forest?"
(There may be a good answer to this question. It wouldn't surprise me if some nice reader e-mails me the explanation.)
But at that moment, I was bereft.
"Try not to think about it," my husband said. "After our walk, we'll go for a croissant."
Driving from the lake to the village, I witnessed darkly dressed men standing in clouds of leaves that swirled around them like small tornadoes. When we parked and got out of the car, the great song of autumn continued. Even owners of postage-stamp-size lawns felt the need to blow their leaves into tiny piles.
The din vibrated against the glass window at the patisserie while we ate croissants and spooned up potato leek soup. It was then I realized: There was no way to escape NLBD. This was a holiday, with all its trappings. Like fireworks on July Fourth. Like the ball dropping on New Year's Eve.
We drove back home. My neighbor was still blowing leaves.
"Maybe we should clear up, too," I said to my husband.
"I guess," he said, threading his arms back into his red-and-black lumber jacket and heading out the door.
I settled onto the couch and listened to the gentle scuffling of the plastic rake scraping at crispy crunching leaves, one scoop at a time.
Tina Traster writes the New York Post's "Burb Appeal" column and the "The Great Divide" at HuffingtonPost.com. "Burb Appeal: The Collection," a set of Tina's columns and articles, is now available in print and as an eBook at Amazon.com.