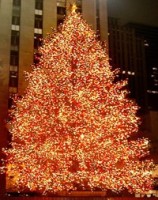 Christmas Tree! O Christmas Tree! Now you can have low cost lighting!

Orange and Rockland has some timely tips aimed at making this holiday season brighter.
Using holiday decorations with energy-efficient LEDs instead of conventional incandescent bulbs saves money. Light emitting diodes use up to 98 percent less electricity than older bulbs, which means fewer carbon emissions in the earth's atmosphere. LED lights also stay cool to the touch and last up to 20 times longer than conventional bulbs.
Each year, over 1,000 people are treated in hospital emergency rooms for injuries related to holiday lights and trimming injuries. Christmas trees are also involved in about 500 fires annually, resulting in about $20 million in property loss and damage each year.
Tree Safety
When purchasing an artificial tree, look for the label '€œFire Resistant'€. Although this label does not mean the tree won't catch fire, it does indicate that the tree will resist burning and should extinguish quickly.
When purchasing a live tree, check for freshness. A fresh tree is green, the needles are hard to pull from branches and when bent between your fingers, needles do not break.
When setting up a tree at home, place it away from fireplaces and radiators. Because heated rooms dry out natural trees rapidly, be sure to keep the stand filled with water. Place the tree out of the way of household traffic and do not block exits or doorways.
Lights
When purchasing decorative lights, make sure they have the approval label of a testing laboratory like Underwriters' Laboratories, that familiar UL symbol.
Check older light sets to make sure their wires are not frayed or have worn bare spots on them, and replace them if they are damaged.
Use no more than three standard-sized sets of lights per extension cord.
Never use electric lights on a metallic tree. The tree can become charged with electricity from faulty lights, and injure anyone touching it. Instead, use a colored spotlight above or below the metal tree, never attached to it.
Always unplug holiday lights when going to bed or leaving the house.
If you decorate outdoors, as many of us do, make sure to use lights designed for exterior use. Those units are typically more sturdily constructed, and can stand up better to winter wind and weather.
Don't overload your household electric outlets with multiple plugs on multiple plugs.
Running extension cords under rugs presents a potential safety hazard, and a potential fire hazard.
Decorations
Use only non-combustible or flame-resistant materials to trim a tree. Choose tinsel or artificial icicles of plastic or non-leaded materials. Leaded materials are hazardous if ingested by children.
Avoid artificial trimmings that resemble candy or other food that may tempt children to eat them.
Beware of toxic decorations. Mistletoe and holly berries may be poisonous if more than a few are swallowed. Old tinsel may contain lead. Fire salts (which produce a multi-colored effect when thrown on burning wood) also contain heavy metals which if swallowed can cause serious stomach upset. Keep these items out of the reach of young children, and if they do swallow any of these possibly hazardous substances, consult a doctor.
Fireplaces
Make sure the flue is opened before starting your fire.
Do not burn wrapping paper in the fireplace. A flash fire could result as the chemicals that give the paper color ignite.
Flammables near flames can be ignited by your fire. Don't hang flammable decorations from your fireplace mantel.