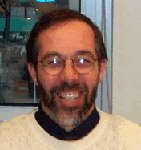 by Dave Zornow
Most people who join a board of education have no idea of what the job actually invovles. The campaign talk of improving education quickly gives way to executive session realities of personality conflicts, union negotiations, limited resources and personnel issues. The new appointee to the Nyack Schools' Board of Education is the rare exception: he's been there, done that. And now he's doing that again.
Don Hammond, who served as a trustee from 1998-2004, was appointed to the board this week to fill out the rest of departing board member Bryan Burrell's term. Hammond was board president from 2002-2004 during a tumultuous period including a contentious public debate about retaining the Indian as part of the school's logo.
"Don believes in the public educational system and will work hard to make it better," says Claudette Jimerson, one of four sitting board members who voted in favor of Hammond's appointment. "He brings a wealth or knowledge and experience at a time when many important decisions are being made."
"Dr. Hammond is well qualified to fulfill this position as we move forward with the process of choosing a new superintendent, along with all the other important decisions the board is entrusted to make through this school year," says Claudette Clarke, a trustee and the secretary for the Nyack Board of Education. "I wholeheartedly congratulate Dr. Don Hammond on being chosen to rejoin the board."
In addition to his board tenure, Hammond's background includes business and education experience and a career of working with non-profits specializing in doing good. He previously served a vice president at Episcopal Relief and Development and as vp for US and Refugee Affairs at the World Relief Corporation. Hammond also authored the March 2000 United Nations General Assembly report, "50 years of Refugee Protection: A Non Governmental Organization Perspective."
Hammond is a an adjunct faculty member of Nyack College and previously taught at Mercy College's School of Business. He is also a board member at Heifer International, a global nonprofit dedicated to ending hunger and poverty by providing gifts of livestock, seeds and trees. He holds a Doctorate of Ministry in Urban Missions from Westminster Theological Seminary and received an MBA from Iona College and a BA from Nyack College. He is also the Chief Operating Officer for the Rockland County YMCA.
Hammond says this is a critical time for the school board as the trustees search for a new superintendent. "As we look for our next leader and it is an honor to serve in this capacity," he says. "I look forward to working with my fellow trustees, the school administration, teachers, community members and students to set a positive and forward looking agenda for our children."
See also: Nyack Schools Pick Trustee Replacement, 12/8/2010