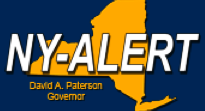 From the MTA:
On Monday, December 27 Metro-North will operate a regular Sunday schedule on the Hudson River line due to the blizzard.
From O&R:
Dec. 26, 2010, 8:30 p.m. —  About 600 O&R customers at three different damage locations are temporarily without electric service at this hour as a result of damage from the heavy snowstorm that is blanketing the area today.
The largest single outage is in Mahwah where 533 customers are temporarily without service. That service is expected to be restored by midnight. The two remaining outages — one in Montebello affecting 63 customers and one in Monroe affecting two customers —- are expected to be repaired by 10 p.m. Crews are working on those outages now.
From the National Weather Service:
Rockland County, 8:16p Dec 26 — Dangerous blizzard conditions In Northeast New Jersey and Lower Hudson Valley UNTIL 12/26 11:15p.
A persistent band of very heavy snow continues across the region Through 11p. Likely remaining nearly stationary. Snowfall rates of 1 to 2 inches per hour are expected and occasionally 2 to 3 inches per hour as these bands briefly intensify.
North winds of 20 to 30 mph with frequent gusts 35 to 45 mph will accompany the heavy snow. This will also have wind chills hovering in the single digits through this evening. The combination of heavy snow and strong winds will create widespread blizzard conditions with considerable blowing and drifting of snow and frequent whiteout conditions. Motorists should avoid all unnecessary travel. If you must travel exercise extreme caution and take along a winter survival kit. A blizzard warning remains in effect.