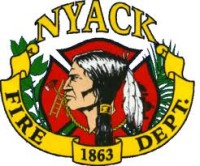 Nyck, Dec 14 — Today is the the annual Nyack Fire District Voting Day. If you aren't in the fire department, you can be excused for being out of the loop. "I'm the mayor, and I didn't hear about it until a few minutes ago," said Nyack's Mayor Richard Kavesh on Monday.
Officials at the Fire District notified Village Hall about the Tuesday, Dec 14 election late in the day on Monday, Dec 13.
Voting will take place at Depew Manor from 2p-5p on Tuesday, Dec 14. After a one hour dinner break, voting continues at the Park Street Fire House from 6p-9p. Depew Manor is located at 60 Depew Avenue in Nyack. The Jackson Fire Company is at 11 Park Street in Nyack.