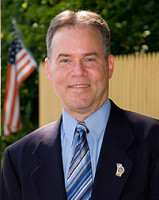 The Republican Deputy Minority Leader of the Rockland Legislature has called for a state audit of of Rockland County finances and budgets managed by the Republican County Executive.
Legislator Edwin Day's resolution requests the NYS Comptroller to perform a full audit of Rockland County government operations, internal controls and budget review procedures.
"We are faced with a projected $47 million year-end general fund deficit that could increase to $80 million by the end of next year with declining revenues and escalating expenditures," says Day. Although Day acknowledges the effect of the recession, he says much of the blame for Rockland's fiscal woes belongs in Rockland. "Budgets prepared by the executive branch continue to overestimate revenue,'€ he says.
Rockland has overestimated sales and mortgage tax revenue cumulatively over the past six years by almost $82 million creating a general fund operating deficit which will carry forward to calendar year 2011.
On Tuesday, the County Legislature passed a 2011 budget of $710 million that includes a 2% property tax increase and a proposal by the Rockland County Executive Scott Vanderhoef to sell the county nursing home and hospital to a public benefit corporation in an effort to fill an $18 million budget gap.
New York's Comptroller has the responsibility to oversee the fiscal affairs of local government. Audits may be requested by local officials, and includes ensuring local governments obtain and use public resources properly; assesses programs efficiency and identifies cost savings; and examines information contained within preliminary budget to determine if it is supported and estimates are reasonable and truly balanced.
'€œFrankly we need outside help, and that help has to have some teeth," says Day. "An audit by the State Comptroller will provide that, and also give us real time information on the fiscal progress of our county, going forward into this defining year.'€