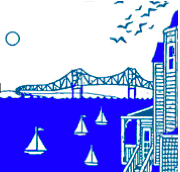 Last week the Nyack Chamber of Commerce elected Scott Baird as their 2011 chairman and president. Baird, a commercial real estate broker with Rand Commercial services, succeeds Carlo Pellegrini, whose term expired this month. Gina Cambre, owner of Casa Del Sol in Nyack, will serve as vice president.
Pellegrini says the chamber had a successful 2010, citing creation of a new Website, a new slogan ("Pro-Business, Pro-Member, Pro-Nyack") and several new initiatives as accomplishments.  Vendor participation at the Farmer's Market was up and chamber event attendance increased 25 percent.
The Nyack Chamber also coordinated a holiday radio coop advertising on 107.1 WXPK ("The Peak") which included 13 merchants running 100+ spots. "The store keepers are still telling me they are hearing the spots ALL the time and that they sound so professional," says Pellegrini. "Merchants are saying it makes them proud to have a store in Nyack."
2011 plans for the new board include producing a Parking Map and Events Guide to The Nyacks. A new media campaign titled "Experience Nyack" with a rotating tag line customized to each event will emphasize shopping, dining, street fairs, special events, day trips, antiquing and other events.
Next year the Chamber of Commerce of The Nyacks celebrates it's 55th anniversary. Although a lot has changed in the village since 1956, some things in Nyack remain the same. Pellegrini says the son of a charter member of the chamber told him that businesses formed the chamber because none of the groups in the village could get along. Pellegrini asked him what the number one issue was for businesses back in 1956. "That's easy," he said. "parking."