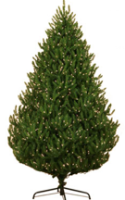 We have all been warned about coal in our Xmas stockings. Rockland's Senator-elect now wants to warn us about lead in our trees, too.
Senator-Elect David Carlucci (D-Rockland) is pushing for legislation that would require all artificial Christmas trees sold in New York State to have a warning label on the box. The warning label would list all hazardous chemicals and any precautionary measures that should be taken when handling the tree.
'€œMany New Yorkers are not aware that artificial Christmas trees may contain lead," says Carlucci. All artificial trees now sold in California manufactured in China are required to carry a warning label. '€œIf there is any potential at all of children being exposed to harmful toxins there should be a clear warning label on the outside of the box so parents can make an informed decision,'€ Carlucci says.
Approximately 85 percent of artificial Christmas trees are made in China and most are made of metals and plastics. It is estimated that artificial trees are now present in an approximately 50 million U.S. households. The plastic material is typically made of polyvinyl chloride (PVC) which can be a potential source of hazardous lead. Exposure to lead has long been recognized as a major public health issue, causing permanent and irreversible neurological damage, especially to infants and young children.
Because children are likely to touch the branches of the tree and sit under it where contaminated dust may fall, they are at greater risk of lead exposure. Handling an artificial Christmas tree can leave residue on the hands, therefore it is recommended that children not handle the artificial tree, and adults who do handle it wash their hands thoroughly afterwards.