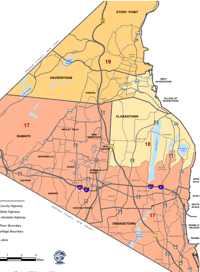 by Cliff Weathers
The Cook Political Report predicts New York will lose at least one Congressional seat from upstate with ramifications in the Hudson Valley and downstate.
The 17th, 18th, and 19th Congressional Districts will likely see significant changes, according to the report. If only one seat is lost, Eliot Engel, Nita Lowey, and Nan Hayworth will see their districts significantly change. Lowey's will expand further north into Westchester County and Engel's will move further north in Rockland County. This pushes incoming freshman Nan Hayworth's district into the "friendlier Republican territory" upstate.
Such changes would cement the 17th and 18th as strong Democratic districts, and return the 19th to the Republican fold (the seat went to Democrat John Hall in 2006 and 2008). It's not known whether Engel's district would lose the Bronx and the sliver of Westchester it now has, but we've heard Engel discuss this as a possibility in the past. Engel has also reportedly told supporters in Rockland that he'd follow the district wherever it went. We don't know if that means that Engel would surrender his Bronx apartment for the more open spaces of Orangetown or Ramapo'€"as members of Congress are not required to live in the district they represent'€"but it would be nice to have a Congressman who lived as part of our community.
Hayworth's district is not vulnerable in this political game of musical chairs, according to Cook, but 24th, 25th, and 29th'€"which wrap around each other Upstate and along the Southern Tier'€"are being eyed for downsizing. The 24th is considered particularly vulnerable and the neighboring 22nd could fill much of the void in its absence and morph to the north and west. Still a district like the 19th should feel the gravity, quite possibly pulling further into Dutchess and possibly into Ulster, Greene, or Columbia Counties. And the ultra-gerrymandered 20th district might lose its eccentric shape to the demise of the 24th, as it now makes an odd wall around Albany, a city that's very Democratic.
Hayworth, who currently lives at the very southern border of her district, in the Westchester town of Mount Kisco, may find herself moving far north. Should Lowey's district envelope Westchester, it would be politically prudent move for a freshman running for reelection to move north into Putnam or Dutchess before 2012.
Should a second Congressional district be lost in New York, Cook believes that they'll take it away from a New York City Democrat.
The only Republican in the city, freshman GOP Rep. Mike Grimm, has the geographic advantage of representing Staten Island and is almost assured to escape the remap unharmed. It is also unlikely legislators would eliminate a majority-minority seat. Democratic Rep. Charlie Rangel (NY-15) is a candidate for retirement but his Harlem seat is historic. So some Democrats would wait and see if Queens Rep. Gary Ackerman (NY-05) decides to retire in 2012. If he does, his district could be parted out. If not, it's possible line-drawers would be forced to combine Democratic Reps. Joe Crowley (NY-07) and Carolyn Maloney (NY-14), who both represent parts of Queens, into one district.
Since Engel's seat is partly in the Bronx, we wonder if such a development would further hasten a push northward for his district. However, from reading the paragraph above, it appears that any changes to the Congressional landscape in New York City would come to the borough of Queens and in Long Island.
This story first appeared on the Left Of The Hudson blog.