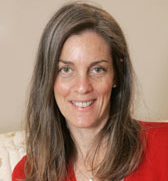 By Tina Traster
I looked twice before I realized it was a cat. Dumped and left for dead, at first he looked to me as if he might have been a raccoon. He was curled up in the leaves next to a walking trail, far from any house. His face was scarred and scabbed.
'€œThis cat,'€ I thought, '€œhas to be saved.'€
A woman walked by and, noticing that I was extremely upset, asked what was wrong. Miraculously, her next words were, '€œI rescue cats. I'll jog home and get a trap.'€
She returned 40 minutes later with a trap and some bait (tuna fish). It was obvious by the way this cat walked into the trap that he was young, had strength to lick the plate clean and was not feral.
My husband and I went to the emergency animal medical center, where doctors triaged the cat with fluids and antibiotics. Since we were considered '€œresponsible'€ for the animal, we had 24 hours to decide his fate.
'€œWe cannot take in another cat,'€ my husband declared, citing our four felines.
'€œI know,'€ I said. '€œIt won't work.'€
While the cat received medical attention, we rushed back home and called everyone we knew. Nobody wanted a cat. We knew he'd be put down at the local animal shelter.
'€œWe cannot take in another cat,'€ repeated my husband as the day grew darker and things began looking more desperate.
'€œI know,'€ I said. '€œWe don't have a way to introduce him to the pack.'€
The problem is we don't have a basement, mudroom, garage or outbuilding. On top of that, our house is constructed like a bagel. The foyer leads to my office, which leads to the kitchen, which leads to the dining room, which leads to the center hall, which leads to the living room, which ends back at the foyer. The donut hole, so to speak, is a small, cramped laundry room. I couldn't imagine putting a cat in there.
The upstairs bedrooms and bathroom weren't options either '€" their well-worn perches belonged to our current cats.
Each time I've rescued a cat, he or she has been young enough to be read the riot act by the others in exchange for room and board. But the cat we found on the hiking trail '€" though small and the worse for wear '€" was a grown male cat. And you need to give a grown cat a separate space before the others will accept him.
We kept making calls. No one would take him.
'€œWe are going to have to take this cat,'€ my husband said, as the sun started to sink.
'€œI know,'€ I said. '€œCan we build an extension overnight?'€
I wished I could turn back the clock five years, to when all the walls were down to the studs and there was a chance to build a mudroom. I'll know better next time.
After he spent two days in the hospital, we brought the cat home and named him Patch. Small and frail, he was treated by the other cats as if he were a Doberman. There was lots of hissing, growling, hair standing on end, stiff tails.
Our cat commune was perturbed. There was no way that Patch was going to be eligible to share their litter boxes or food court. My husband and I looked at each other with despair.
Then we both looked forlornly at the laundry room.
It's roughly 9 feet by 6 feet, though most of the floor is occupied by appliances and storage cabinets. We set up a litter box, food and water bowls, catnip toys and a little straw basket with a towel for sleeping.
Keeping him behind closed doors felt cruel. It wasn't. This little space, though hardly ideal, saved him.
Over a couple of weeks, he got stronger. In the meantime, our brood could sniff around outside the door and get used to him. Slowly, Patch was eased out a few minutes at a time until his eventual induction.
A month later, Patch has earned free passage, but he's still like a reality-show contestant '€" most likely to be voted off the island. And thus the laundry room has become his lair, his safe place, his sanctuary. Except when I'm doing a load.
Tina Traster writes the New York Post's '€œBurb Appeal'€ column and the '€œThe Great Divide'€ at HuffingtonPost.com.  '€œBurb Appeal: The Collection,'€  a set of Tima's columns and articles, is now available in print and as an eBook at Amazon.com.