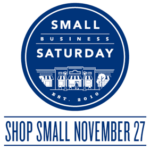 American Express Cardholders can help small businesses — and put money in their pocket — by spending $25 and receiving a $25 credit on Saturday November 27.
Small Business Saturday is an AMEX promotion for any independently owned small businesses that accept the American Express Card. Purchases made online, at large, national chains, at franchised business locations, and at government agencies are not eligible.
'€œThis timely promotion is a perfect reminder for those who love Nyack," says Chamber of Commerce of the Nyacks' Vice President Gina Cambre. "Supporting a small, independent business and shopkeeper in this economic climate means healthier downtown environments."
Availability is limited to the first 100,000 people who register  on Facebook before November 27, 2010.
Parking will be free in Nyack's Artopee parking lot (adjacent to Riverspace) and in the Speer Street lot (south of Broadway) from Friday, November 26 through January 3, 2011.