by Peter Klose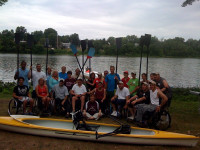 You have seen the kids running, the boats slipping away from the Marina and the annual ergathon for the Nyack Center. Now it's time to support the River Rowing Association and its newest initiative– Adaptive Rowing.
The River Rowing Association is delighted to announce that paralympic rowing champion Laura Schwanger will be speaking at their fall fundraising event on Nov. 11, 2010. A two-time adaptive national team member, Schwanger also won a bronze medal in the women's arms-only single sculls at the 2008 Paralympic Games in Beijing. Now retired, Schwanger worked for the United Spinal Assoc. where she ran the Pennsylvania programs for U.S. veterans with spinal cord injuries.
'€œWe are honored and delighted to have Laura speak at our fundraising event,'€ said RRA President Ivan Rudolph-Shabinsky. '€œShe's an inspiration to us all, combining phenomenal athletic talent with the dedication to help U.S. veterans with spinal cord and other injuries regain their physical mobility, strength, and endurance.'€
The annual fundraising event takes place at 6 p.m. on Thursday, Nov. 11 at The Lightbox Studio in downtown Nyack. Tickets are available at the door for a suggested $35 donation.
The proceeds from the annual fundraising event will support rowing programs offered to adults and juniors in the Hudson River Valley, including training in adaptive rowing for people with disabilities.
Sue DeMocker, communications officer
The River Rowing Association
(914) 255-5932