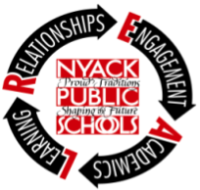 The Nyack Board of Education is looking for a community volunteer to appoint to an open trustee position on the board. Applications are due by 12/1 and a decision will be made by mid December.
To apply a community member must'€¦
Be a citizen , be at least 18 years old and a District resident for 30 days
Send a letter of interest indicating why he/she desires to be on the Board and what
background he/she brings to the position
Applicants must submit a letter and a resume to Nyack Schools by December 1, 2010
Applications should be sent to the District Clerk via e-mail at gfleur@nyackschools.com,
or by mail to 13A Dickinson Avenue, Nyack, NY 10960.   For more information contact District Clerk Gail Fleur, at 845 353-7013.
The opening trustee position occurred after board member Bryan Burrell resigned on November 13 after serving the community as a trustee for 15 years.