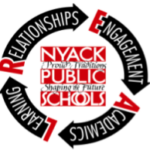 Nyack's Board of Education has hired School Leadership, LLC to conduct a search for a new superintendent to replace Dr. Valencia Douglas who left the district in August. The consulting firm will be paid about $20,000 to conduct interviews and recommend candidates.
The community is invited to provide input to the search process at a meeting on Thursday, December 9 at 7p at the Nyack Middle School where the process and the timetable will be presented to the public. The school board encourages the public to provide input regarding:
What would attract a highly qualified educator to seek the position of Superintendent in Nyack?
What are some of the challenges the new Superintendent will face over the next three to five years?
What prior experiences and personal/professional qualities do you desire in the new Superintendent?
Parents and taxpayers can complete an online survey or print and fax or mail a pdf to the consulting firm.  In addition to an open ended question asking respondents what they believe will be the major challenges facing the next superintendent, the questionnaire asks participants to choose five out of 16 experience criteria they would like to see in the next superintendent such as teaching, administration, central office, PR, HR, bargaining and public speaking experience.
Source: Nyack Schools