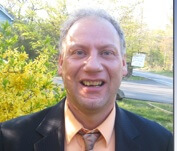 by Dave Zornow
Nyack, Nov 16 — Nyack Schools Trustee Bryan Burrell has resigned from the Board of Education effective November 13. In an email, Burrell said he was leaving the board for personal and health reasons.
An official announcement of Burrell's resignation will be made this evening at an "open forum" for Nyack Schools tonight at 7:30p in the Nyack Center.  "The Board will meet in executive session to discuss what the process might be about his position," says schools spokesperson Gail Fleur.
A school board member since 1996, Burrell served as president of the for seven years stepping down from that job in July, 2009. He was an officer on the board in various capacities for 12 years.
In March 2009, he was recognized as the '€œAdvocate of the Year'€ by the NYS School Boards Association. Burrell was last re-elected to his seat in 2008.