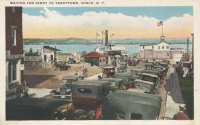 Nyack, November 30 — Today marks the last day of regular ferry service between Nyack and Tarrytown — 69 years ago. Here's a little bit of Nyack's nautical history from several sources round the 'net:
"On November 30, 1941, Ferries Operating Company, Inc. discontinued its Nyack-Tarrytown ferry run, ending 101 consecutive years of service. Piloted by Captain James O. Harper, the "Wyoming" made its final journey, described by The Journal-News as having "many of the qualities of a jolly wake." South Nyack Mayor Raymond D. Gurnee was aboard. And Mr. and Mrs. Robert Marchak of Congers had the distinction of having the last car to get off the boat."
A New York Times article attributed the shutdown of service to declining revenue. According to the paper, the majority of the route's business came from North Tarrytown Chevrolet assembly plant, which had recently curtailed production. In addition, to transport the cars it made, the company had increasingly been using trailers that the ferry couldn't accommodate. Source: Rockland County, May 1993
"Captain John Lyon continued in Hudson River steamboat service to his 89th year, long skipper of the Nyack-Tarrytown ferry Rockland. It was related that he cast off his own lines as deck hand, gave the wheel a turn as captain, started the engine as engineer and collected fares as purser. He began steamboating in Francis Skiddy in 1851, running to Albany, and next went in George Washington, making daily trips between Haverstraw and New York. He was steward of Broadway, a day boat to Yonkers and Dobbs Ferry, owned by Isaac P. Smith, when it blew up in the early '1860's.
"Captain Lyon became skipper of the ferry Tappan Zee in 1880, remaining until it burned in 1887, being replaced by Rockland. Captain Lyon numbered Admiral Farragut, Horace Greeley, Grover Cleveland and Theodore Roosevelt among his friends. He died of pneumonia in February, 1923." Source: "Steamboat Days" by Fred Erving Dayton via ulster.net
"The Nyack-Tarrytown Ferry, leaving from the Foot of Main Street in Nyack, began in 1834 on Isaac S Blauvelt's vessel named "Donkey," an anglo corruption of Dutch "donk ya," or 'thank you." Ferry remained in service until the opening of Tappan Zee Bridge in the 1950s. This spot was also the start of the Nyack Turnpike, first direct highway across Rockland County. Source: Wikipedia