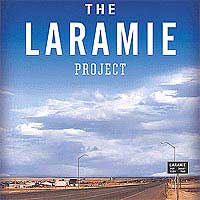 What happens to a town when something unexpected, unconscionable and unforgivable rips it apart? What happens to its people when they are thrust into the unrelenting glare of a national media spotlight? And what happens to a community when trust among its own people has been shattered?
On November 19-20 Nyack High School's Drama Club performs The Laramie Project, a play which examines the aftermath of the murder of 21-year-old Matthew Shepard. Written by Kaufman and the Tectonic Theater Project, the off-Broadway play was called "one of the best plays of 2000" by Time magazine and has gone on to become one of the most performed plays in America.
To create The Laramie Project, the eight-member New York-based Tectonic Theatre Project traveled to Laramie, Wyoming and recorded more than 400 hours of interviews with the town's citizens over a two-year period. The play dramatizes the troupe's visit, using the actual words from the transcripts to create a portrait of a town forced to confront itself in the aftermath of this tragic event. "We tried to tell the story of the town of Laramie, as opposed to telling the story of Matthew Shepard," explains writer and director Moises Kaufman. "There are between 20 and 30 anti-gay homicides reported every year, which means at least twice as many aren't reported. But for some reason, this one resonated. This was a murder where the whole nation, and some might say, large parts of the world, said, 'Wait a minute. Look at what we are doing. Look at what's happening, says Kaufman. The story looks at where were as  a country at that moment in our history – not only in relationship to homosexuality, but in relationship to class, economics and education.
Nyack High School's Drama Club Director Joe Egan has assembled a powerful ensemble of 19 students to portray the inhabitants of Laramie and the theater company.
$10 adult and $7 students tickets will be sold at the door before the 8p showtime on the night on Friday, November 19 and Saturday, November 20 in the Nyack High School auditorium.
See also: LoHud Theatre Blog, 10/21/2010, Tectonic Theatre Project