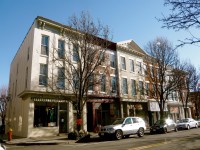 by JC Brotherhood
As Nyack considers relaxing current restrictions on filmmaking in the village, we need to change how things have been done in the past. How can we encourage movie productions in Nyack without letting things get out of control?
Although there may not be a S.A.G. rep on every set where there is talent, all union members, regardless of craft or trade, are clearly represented by collective bargaining agreements. There is usually not a representative on each set unless, there is an issue or it's lunchtime. Regardless, Nyack should insist upon being represented at all times while filming on our streets and in our neighborhoods.
Nyack as well as most of Rockland County is '€œwithin the zone'€ of most New York City based productions. Villages like Tarrytown and Peekskill have encouraged film companies by creating clear rules and guidelines. But villages like Nyack and Piermont have discouraged activity, for one reason or another, by either adopting draconian and punitive regulations or getting a reputation as a '€œshakedown'€ location.
There is a way to create a workable system here in Nyack. The key is to have a clearly understood set of guidelines and a reasonable fee structure.
One approach would be to create a '€œMayors Office for Film and Television.'€ This group would be headed by someone with a working knowledge of filmmaking and the logistics of the organized chaos of today's production schedules. They would also have a clear understanding of what Nyack has to offer in the way of locations and amenities for production.
The permit process begins and ends with what is referred to generally the '€œSchedule A'€ which lists exactly what is going to occur, dates and times, exact location, public or private property, number of trucks, lifts generators, picture cars, traffic control and mitigation, pedestrian access, and any special props like the proverbial '€œpig in a blue suit."
The Film And Production Office would review the application with the Village Manager, approve the permit and issue the '€œSchedule A,'€ referring any logistical concerns to the relevant agencies like parking enforcement, police, fire, water department, DPW or Buildings Department. It would be the Film Office's job to enforce the rules: if its not on the '€œSchedule A,'€ then it doesn't happen.
We also need to educate ourselves as to what is, and is not, acceptable behavior. There are industry '€œcode of conduct'€ references published by most major and independent producers. I have copies of some examples of these, they are good resources and a highly recommended cure for insomnia.
What happened in Nyack prior to the shut down was unconscionable and should never have been allowed to happen. Production personnel have no authority to block or otherwise prevent anyone from walking on a public sidewalk. They can politely ask someone to wait a bit but cannot compel them to, either physically or verbally, unless it is a critical safety issue involving stunts or special effects. If someone is determined to walk through a shot, oh well, lick your lips and smile for the camera'€¦
Intermittent Traffic control (ITC) is a different thing and requires a duly authorized traffic agent or public safety officer to review with the Film Office all traffic closures or detours, including stunts and simple or not so simple driving shots involving camera cars and picture cars. Locations people can assist but they cannot close streets or divert traffic. It's illegal.
How anyone could believe for a second that a production like the one mentioned in the article would not affect traffic on the street or sidewalk is inconceivable. Of course the Location Manager is going to downplay the situation. In this Nyack bears some responsibility for what occurred in 2008. We shouldn't expect the Village Clerk or the Village Manager for that matter to be able to see through intricacies of something like a production of this scale. We need someone knowledgeable enough to be able to '€œpush-back'€ a little on the attitude of '€œfilmic immunity'€ so often claimed by production companies big and small.
Film and television production is very fluid and setting arbitrary time frames is tricky, things can change for any number of reasons, weather, talent conflicts, equipment failure and some just plain dumb self inflicted issues which a '€œproduction friendly'€ venue should be able to roll with, without too much grief.
Most of these issues involve ambitious schedules that go over-time by hours and sometimes days. Since movies take place day and night it would be foolish for example to restrict the activities to just daylight hours. We let the bars stay open until four AM — what's the difference between that and a pre-rig crew anticipating a sunrise shot over the Hudson River? At least the riggers are usually sober at that hour, (generally speaking).
No one should believe for a minute that we can do this without some inconvenience. Parking will definitely be affected if only for the fact the best place to stage equipment, without impacting sidewalk or street traffic, is usually in the parking lane.
The most common complaint I hear usually arises from '€œLocation Fee Envy'€ where for example, store A is getting a location fee (privately negotiated with the production company) but store B next door gets the craft service table or video village set up in front with little or no compensation. Location fees for private property are what the market will bear. The best way to get a reputation, as a shakedown location is to mandate some sort of '€œinconvenience fee'€ for everyone who feels slighted or left out.
Fees for filming on public property should reflect the cost to the village, how much parking is required on the street, how much in a remote lot, etc. Are traffic agents, police or DPW required? Some productions will, others won't. It's not a one-size fits all situation and any plan the village adopts should be able to differentiate between independent student films, commercial production, major theatrical productions, documentaries, etc.
This might be one area where we should seek the cooperation of the surrounding villages in order to encourage wider participation in making the Nyacks more '€œFilm Friendly'€ with coherent standards and practices if not similar fee structures, while offsetting some of the costs born and sharing the benefits of a growing market.
JC Brotherhood is a union '€œProperty Master'€ with over fifty feature films to his credit and 30 years experience in the industry.
See also: Nyack VB To Reconsider Film Regs, 11/19/2010