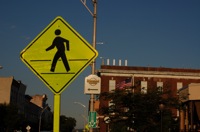 by Jan Degenshein
I love '€œThe Nyacks.'€  In spite of the profound attachment that I feel toward these river villages in which I have grown up and built my career, I am profoundly aware that The Nyacks does have its trials and tribulations; and that It lies  at times in thrall to the forces of unbridled socio-economic evolution:  challenging finances, and thus a prevailing mood of concession, surrender and resignation to a perceived inevitable demise. This has perhaps altered its character and surely diminished its sense of optimism, its capacity to think '€œoutside the box'€ and regain the confidence to accomplish its objectives.
No longer, as we may desperately wish, do The Nyacks fit a nineteenth or early twentieth century model of a self-sustaining community.  To return to self-sufficiency, it must acknowledge a new economic model '€" one in which a co-dependency exists between residential and commercial interests.  Downtown needs its local residents (and visitors) to support its endeavors.  Residents need the tax ratable properties generated by flourishing downtown merchants to keep the specter of escalating taxes at bay.  The Village of Nyack (and its sister villages) must work together to accommodate these symbiotic needs.
With today's broad reach of suburban highway systems, there isn't enough activity in Nyack to draw consistent visitorship (tourism) to sustain the downtown.  Ipso facto, there isn't enough activity to sustain the residential community (that is, the municipal services needed to satisfy contemporaneous needs).  A cultural arts center (especially one that produces unique offerings in the region) as anchor to the '€œsuperblock'€ will serve as a catalyst to downtown economic stability.  Regardless of the form this '€œinstitution'€ takes, it becomes a part of the complex symbiosis of the community at large '€" and beyond that, the region at large.  Success (for the village and the theater) will depend upon the downtown, it will depend upon residential support, and it will depend upon a regional market that has not yet been targeted.  The Tappan Zee Theater, the Helen Hayes Performing Arts Center, Riverspace, and even the Nanuet Star Theater all served our subject region; and none could sustain itself '€" in spite of the high quality of performance art it offered.  Parking may have been a minor issue.  More paramount has been competition from established performing arts venues in nearby NYC, Westchester, Northern New Jersey, and even Rockland County '€" all competing for the same required ongoing patronage.  Other existing regional performing arts organizations struggle to keep the footlights aglow.  A relatively modest group of us in the community desire one more performing arts center to frequent and enhance our quality of life.  Sadly, the social model of the suburbs is filled with constituents who '€" at best – haven't the time to patronize regional theater; or who '€" at worst – are apathetic to the arts.
The formula for success is complex.  A cultural arts center in downtown Nyack is not a magic elixir that, by itself, will make all the ills of the new economy go away.  Nyack also has the opportunity right now to court a broader residential base, one that would relieve the financial burden presently suffered by  existing real estate tax payers (and by extension, renters).  The '€œsuperblock'€ affords additional apartment/condominium development.  '€œClaremont III'€ and the '€œPavion'€ sites, among others, offer similar benefits.  All three can be zoned with bulk and density requirements that will enhance and  buoy downtown.  If merchants are to survive, their services must be supported by a more expansive patron base.  New residential development, if planned thoughtfully, could provide tax revenues that far outstrip infrastructure and public school service demands.  All could lure disposable income into our downtown that would contribute to the success of our merchants.  All could contribute to a vital night time street life that is far more beneficial to community than that afforded by the current and intrusive wave of new bars.  The way to discourage unwelcome interlopers is to supplant them with more  community stakeholders and welcomed tourists who will take back the streets by night; and populate the streets by day.
When the Village Board considers the future of the superblock, it must concomitantly consider the future of other identified land parcels.  The superblock alone will not turn Nyack around.  Trustees must be prepared to shed the prejudicial concept that '€œhigher'€ densities (30 to 40 dwelling units per acre) are detrimental (rather than beneficial) to the community.  Such densities can be woven into the fabric of our precious architectural heritage.  As an example, four story buildings, required for the densities necessary to attract responsible residential development, can be detailed by virtue of zoning bulk and architectural features, to blend seamlessly into, and enhance, the existing built environment.  One has only to examine Courthouse Hill in Arlington, VA (44 units per acre), the Oriental Warehouse in San Francisco, CA (also 44 units per acre),  or Addison Circle in Addison TX (37.5 units per acre) to appreciate successful implementation of the concept.
Without a broader constituent population base as part of the solution, merchants will surely fail; residents will be driven out; and Nyack will become not a sleepy little Victorian River village, but a comatose ghost town.
Jan Degenshein is principal of Degenshein Architects Planners in South Nyack.