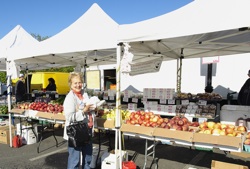 by Carlo Pellegrini
There's FREE Parking (an anomaly in Nyack) for the Nyack Farmers' Market every Thursday between 8am '€" 2pm in the Artopee Municipal Parking Lot, behind Riverspace. It's funny how people don't believe me. As president of the Chamber of commerce, I put up signs, I publish it, but people keep putting money in the meters. I even stood in front of the meters one Thursday and, as people approached, I said: '€œNo need to put money in the meters today, Folks. I'm the president of the Nyack Chamber that produces this Farmers' Market. We have arranged to give our visitors free parking for the market.'€ The gentleman said: '€œStep aside, sonny. Nice try. I'm not taking any chances. I'm not interested in getting another ticket in this village.'€
Sad really. Sad that he didn't believe me; sad that our parking regulations and charges have marred this visitor's behavior to the extent he is guarded, jaded and fearful of getting a ticket in the Village of Nyack.
That is really not the publicity or reputation we want. This is the first year of our free parking effort. It is a partnership between the Chamber, the Farmers and the Trustees of the Village of Nyack. Each of our organizations is paying the village for their share of the revenue that would have been taken in on a typical Thursday during the market. The free parking idea was the brainchild of the Advisory Board of the Farmers' Market, headed up by Rich Conklin of Conklin Farms.
My day job (being the president of the Chamber is a volunteer position) is as a keynote speaker and seminar leader for corporations. My subject is '€˜change'…how to deal with it, manage it and '€˜act differently'. I have led the Chamber in a three-year change management process to streamline it and make it more relevant to the business community. What I know from my work is that it takes about 18 months for inter- and intra-dependent behavior to change. In other words, when you want a group of people to change their attitude and behaviors, it takes about 18 months to get all their idiosyncrasies in alignment…and even then there is no guarantee the changed behaviors will last. The best most initiatives can hope for is what I call '€˜The 2% Shift'…if you can get someone/a group to shift (not change) their behavior (work processes) 2%, there is no telling how much more efficiently they (and their department or organization) will operate.
So my best guess is that by this time next year, folks in the community will know and understand and, more importantly, trust, that there is FREE PARKING for the Farmers' Market…and that they are not going to get a ticket. 🙂
Carlo Pellegrini is president of the Nyack Chamber of Commerce.