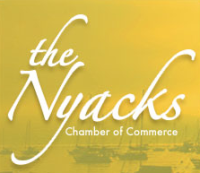 by Carlo Pellegrini
(Updated: Note the date and time change for the annual meeting)
The Chamber of Commerce of the Nyacks is accepting nominations for up to eight new positions on its Board of Directors through December 9. The current board will evaluate the names and offer a slate of candidates to our members to vote on during our Annual Meeting next month. Up to 15 people can serve on the board according to the chamber's by-laws.
Our Annual Meeting and holiday party will be held at Casa del Sol on Main Street in Nyack on December 15 from 6-9p.
Two nominations have been received so far — there are still open positions available. Submission guidelines are simple: email carlo@nyackchamber.org and say: '€œI want to nominate me/someone else…here is my/their resume. I want to be on the Board because…(fill in the reason).'€ That's it. The nomination period closes on  December 9 , so please submit your nominations now.
Members will vote for the new Board Directors and the slate of officers at the Dec. 15 meeting.
As the outgoing chair/president, I will preside over the elections and the meeting and provide an update on what 2010 Chamber accomplishments and preliminary goals for 2011. After the votes have been counted, the new president-elect will speak about his/her vision for 2011.
We are looking for individuals who love Nyack and want to see it thrive. Board members must be willing to roll up their sleeves and contribute their time to working on the board and serving the greater community of the Nyacks in addition to being pro-business, pro-member and pro-Nyack.
If you are a retailer, a merchant, a lawyer, a CPA, a marketing guru, a publicity person, someone who loves running/planning events, a merchant, a restaurant/bar owner, a resident, an artist, a 20/30-something or a sole proprietor we need your help on the Chamber's Board of Directors.
No previous board of directors' experience is necessary, but it is helpful. The chamber has no paid staff except for our bookkeeper. A community member does not have to officially sit on the board to help out…they may want to volunteer for a committee. Many hands makes light work. For more information on the responsibilities of a Nyack Chamber board member, please email me.
The Chamber of Commerce of the Nyacks is an all-volunteer, not-for-profit organization formed with the express purpose of promoting businesses in the Nyacks and maintaining a healthy business-climate in the Nyacks to attract further landlords/tenants and visitors. The Board of Directors are unpaid volunteers. WE are YOU…Like you, we are very busy with our own businesses. We encourage you to get involved.
Our membership is growing as we enter the post-recession.
This is an exciting time to be a part of revitalizing Nyack.
Help the Chamber help Nyack grow.
Carlo Pellegrini is president of the Nyack Chamber of Commerce.