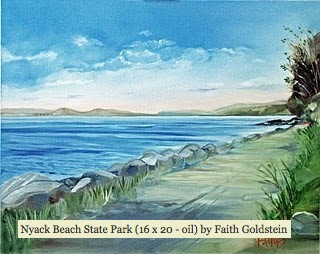 by Faith Goldstein
"Artists in the Parks at Hook Mountain" takes place on Saturday from 9a-4p at Nyack Beach State Park in Rockland County, New York. I took some time to explore this beautiful setting a couple of weeks ago. This park is comprised of several miles of a walking path along the Hudson River —  truly, so peaceful!
During the day, there will be live painting demonstrations and refreshments. From  7-10p the Keep Rockland Beautiful Annual Awards Gala will recognize outstanding community members for their accomplishments. KRB celebrates Hook Mountain, Artists in the Parks, the Hudson River and the mission of Keep Rockland Beautiful, Inc. with a reception, auction and awards event in the historic Bath House in the evening (reservation $75 per person).
For more information about AiP and this Art Exhibit, visit  Artists In The Park and go to the GALLERY link, click on the Nov. 6th photo gallery, to check out all the beautiful paintings that will be part of this show, with silent bidding all day. I'm excited to share that my paintings are posted, as well!!
Faith Goldstein paints and blogs from Yorktown Heights, NY.