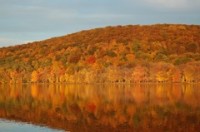 By Tina Traster
My daughter, Julia, and husband, Ricky, love to recount the time mommy dragged them around the lake path on a 10-degree day. (Of course, it was really 20 degrees '€" but with every telling of the story, it has gotten colder and colder.)
Julia, then 4, stumbled around the lake in a puffy pink ski suit, looking like the Gerber baby with her Renoir-rosy cheeks. It took the promise of a rather large doughnut to get her to complete the one-hour walk. My husband '€" usually a hearty soul '€" was whimpering most of the way.
Such is the spell cast on me by Rockland Lake State Park, a 1,079-acre rural retreat two miles from the end of my driveway.
Almost daily, I head to what feels like the middle of nowhere. The freshwater lake is nearly visible along most of the 3.2-mile trail. Encircled by mountains, a walker feels hemmed inside an isolated ecosystem where rabbits, deer, squirrels, swans, geese, ducks and even egrets and herons are constantly visible.
It's by dumb luck that the lake is in my '€œback yard'€ '€" or, really, is my back yard. When I moved from Manhattan five years ago, I could tell the county was filled with beautiful spots, but I had never thought to ask the real estate broker, '€œIs there, perchance, a gorgeous lakeside trail where I can walk, two minutes from home?'€
Too many suburbanites take their constitutionals in cul-de-sacs, on high-school football fields and at the (gasp!) mall. The lake is my sanctuary. Images from its shore are burnished in my mind. Like the cross-country skiers scissoring across on an icy day. And the heron lifting off the shallow bank, its skinny legs dangling. And the doe nursing its fawn six feet from where I stood.
Rockland Lake was the center of ice-making in the mid-1800s. The Knickerbocker Ice Co. harvested ice and hauled it over Hook Mountain along the Palisades to steamboats and ice barges waiting on the Hudson River. Ice was shipped down to New York City and beyond. By 1926, the advent of refrigeration killed the ice industry. But every winter, artists carve enormous ice sculptures for a festival.
Most days, nothing happens on the lake. On weekdays, faithful walkers, cyclists and joggers do laps. We nod at one another. I've given them some names: The demon-fast 80-year-old skater is Speed Racer; the woman with the meringue of white hair coiled atop her head is Her Majesty. Someone out there has probably named me The Woman Lost in Thought, because when I'm alone out there I'm suspended in space and time.
When I'm joined by a friend, the lake walk has a wonderful way of drawing out childhood stories. I've learned more about a person on this trail in an hour then I ever could over months elsewhere. The calm waters lull you into a state of remembering. My days at sleep away camp upstate in the Catskills are conjured by the sweet scent of summer grass and the thick clumps of water lilies at the banks' edges.
The lake is peaceful '€" except at that moment when you're ambling along and an enormous maple falls right across your path on a perfectly clear, still day. No warning. No groaning sound. A reminder to take nothing for granted.
My 8-year-old has been given a first-class education at the lake. She perfected riding her scooter. She's learned to cycle and row a boat. She possesses a natural-world vocabulary I did not have until my 30s. She can spot a cormorant sunbathing on a rock. She knows baby swans are called cygnets. She finds it intriguing that a flock of crows is called a murder.
Of all the things I do with Julia, walking around the lake with her is my favorite. I love that she knows the contour of the lake as well as I do. I know she will scale up and down the giant boulder near the trail's end or pick up acorns and shove them in her pocket.
One day this summer, she and I walked around the lake when the temperature reached 100 degrees. I know we'll recall that hellish-hot day a year from now. One of us will say, '€œIt was 110 degrees that day.'€ And the other will say, '€œOh no, it was hotter than that.'€
Tina Traster writes the New York Post's '€œBurb Appeal'€ column and the '€œThe Great Divide'€ at HuffingtonPost.com. Read more about Tina Traster's move from the city to a rural suburb in '€œBurb Appeal: The Collection,'€ an e-book available at Amazon.com.