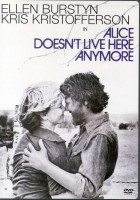 Actress Ellen Burstyn joins Rivertown Film for a benefit showing of "Alice Doesn't Live Here Anymore," a role which won her the 1974 Academy Award for Best Actress. Ms. Burstyn will give an introduction to the film on November 13 at 7:30p in the new Nyack Library Community Room to benefit Rivertown Film.
Joining Burstyn for a post-showing discussion will be Production Designer/Producer Kristi Zea who has twice been nominated for an Academy Award, most recently for Sam Mendes's "Revolutionary Road" in 2008. Zea has also collaborated  with Jonathan Demme (Silence of the Lambs, Philadelphia) and Martin Scorcese on "the Departed" and "Goodfellas."
Tickets are available at Rivertown Film.org or by calling 1-800-838-3006. Seating is limited for this special evening.
See also: Alice may not, but Ellen still lives here, theater.lohudblogs.com, 11/9/2010