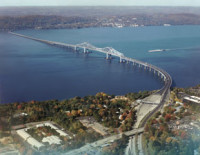 Neither Democrat Andrew Cuomo nor Republican Carl Paladino is too specific about how they would change NYS transportation policies if they became governor, according to the Tri-State Transportation Campaign blog.
Both candidates have criticized the MTA and say NY's next governor should have more direct control.
Both candidates criticize the MTA Commuter tax. However, neither has offered a plan to replace those mass transit revenues.
Cuomo is against congestion pricing, a plan pushed by NYC Mayor Michael Bloomberg in 2008. He favors exploring public-private partnerships for projects like the proposed replacement Tappan Zee Bridge.
Paladino wants to eliminate Verrazano-Narrows Bridge toll but hasn't said where the lost revenue will be made up.
According to the AARP's 2010 Voters Guide. Cuomo supports a statewide "complete streets policy…which takes into consideration all users including motorists, bicyclists, public transportation vehicles and riders, and pedestrians of all ages and abilities, when designing and operating roadways.'€ Paladino opposes the idea.
Source: NY Candidates Paint Transpo Plans With Broad Brush,  tstc.org