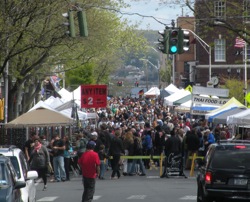 There's a Nyack Street Fair on Sunday October 10, rain or shine, from 10a to 5p sponsored by the Nyack's Arts Crafts & Antique Dealers Association. There will be over 200 hundred vendors selling crafts, gifts, and accessories in addition to Nyack's local merchants and restaurants.
Up to 25,000 people come to Nyack's street fairs. Main Street and Broadway are closed to traffic creating both a car- and care- free pedestrian mall. Visit village merchants and street fair booths along the majestic Hudson.
For more information call 201-666-1340.
Source: Nyack Chamber of Commerce
See also:
Photo Credit: Richard Kavesh