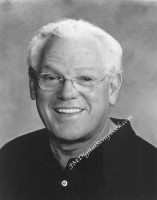 Oct 28 — A Nyack native who became synonymous with the phrase "Book 'em Danno!" passed away this week. Actor James MacArthur, the son of late actress Helen Hayes and playwright Charles MacArthur, died on October 28 at age 72.
From The Daily Breeze: [James MacArthur] was one of those rare individuals who wore his privilege easily and without pretension.
Keep in mind that his playwright …that [his] immediate family…knew absolutely everyone.
So it wasn't unusual for young fifth-grader James to return to the family home in Nyack, N.Y., with a homework assignment to find dad drinking coffee in the kitchen with a friend. The family had lots of friends, including Ben Hecht, Harpo Marx, Robert Benchley, John Barrymore and most of the other leading lights of the day.
"We were reading John Steinbeck's `The Pearl' and it just happened that the nice man in the kitchen with Dad was John Steinbeck himself," laughed the thrice-married father of four who never really had to work again after he left the show and made some smart Honolulu real estate investments. "I asked him if he was the same John Steinbeck who wrote the book. Then, and I don't know where I got the nerve, I asked if he could help me with my paper.
"Next day my teacher asked where I got all this strange information and I told him, `From Mr. Steinbeck.' My father had to write me a note saying that it was true."
From The Hollywood Reporter: Born Dec. 8, 1937 in Los Angeles, MacArthur was raised in a theater atmosphere by Hayes and noted "Front Page" playwright and screenwriter Charles MacArthur, his adopted father, at their home nicknamed "Pretty Penny" on the bank of the Hudson River in Nyack, N.Y.
From Playbill.com: As an actor, Mr. MacArthur acted on stage and screen. In 1955, prior to his senior year at the Solebury School, he appeared in the TV play, "Deal a Blow." After graduation and before going to Harvard, he went to Hollywood to make the film version of it, renamed "The Young Stranger," which earned him a nomination in the Most Promising Newcomer category at the 1958 BAFTA awards.
During summer breaks from Harvard he made "The Light in the Forest" and "Third Man on the Mountain" for Walt Disney. In 1959 and 1960, he made both "Kidnapped" and "Swiss Family Robinson" for Disney.
He made his Broadway debut playing Aaron Jablonski opposite Jane Fonda in Invitation to a March, which won him the 1961 Theatre World Award for Best New Actor.
From JamesMacArthur.com, a 1993 clip from the Rockland Journal-News about Pretty Penny, their house on Broadway in Nyack: '€œAs much as she loved it…Mother owned the house, the house never owned her. Sure, it's the old homestead. But time moves on. My home has been in the West for 30 years. And I've always believed it's not the property that's important, but the person in it. With Mom gone, it's become a house again.'€
His mother, of course, became known as the First Lady of the American Theater, having spent 70 years on stage and screen, playing everyone from commoners to Mary Queen of Scots and Queen Victoria.
His father was the playwright Charles MacArthur, who died in 1956. He, with neighbor Ben Hecht, collaborated on the screenplays for The Front Page, Twentieth Century, Gunga Din, and Wuthering Heights.
With such celebrity parents, the guest list at Pretty Penny, and the family's apartment in New York, often read like a who's who of the rich and famous. But to young MacArthur, it was just everyday life.
In June, at a memorial tribute for his mother at the Shubert Theater on Broadway, MacArthur recalled as a young boy running around the house with his cap pistol, targeting famous guests. '€œI probably gunned down more actors than Frank Rich,'€ he said at the time, referring to the drama critic of the New York Times.
Growing up in Nyack, his neighborhood pals were what mattered most. He remembers tobogganing with them down the backyard lawn that slopes to the Hudson River. In summer, those friends frequently enjoyed the family swimming pool. And although he attended public school in Nyack, he recalls the nuns at St. Ann's School occasionally allowed him to '€œsit in'€ at classes.
But at home at Pretty Penny, there was always a steady stream of celebrities — Ed Sullivan, Jack Carson, Roz Russell, and Beatrice Lillie most easily come to mind — and Scott Fitzgerald, who left one of his signed books for the family.
Sources: From The Hollywood Reporter, From Playbill.com, JamesMacArthur.com
Photo Credit: Photo: JamesMacArthur.com