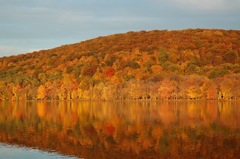 by Jennifer Hausler
My friends and family down in Florida get a little jealous of us this time of year. I'm convinced that we live in one of the most beautiful spots in the world during the last two weeks of October and can't resist showing it off a little. According to the weekly Fall Foliage map on Weather.com, it's prime time for Nyack and the rest of the Hudson Valley. Here a few nearby spots to scope out:
Hook Mountain '€" You can access the trail within Rockland Lake State Park or park along the side of the road on 9W
and take a short, steep hike to the top of Hook Mountain for a large-scale view of the river and a good part of the Hudson Valley.
Nyack Beach State Park'€" at the end of North Broadway in Nyack is the entrance to this park, which features a path along the water's edge.
Mountainview Nature Park'€" travelling north on Rt. 303 just a little bit north of Rt. 59, you can find the entrance to this park by making a right just before the old Journal News building onto Greenbush, then a short left on Strawberry Hill. If you hit KIA you've gone too far. Such a gem and hard to believe it's 200 yards from the Thruway.
Nyack Rural Cemetery '€" Park at the west end of Nyack Lumber on Rt. 59 and walk down the path.
Buttermilk Falls State Park'€" entrance is on North Greenbush Road, and can also be accessed through the Rockland Center for the Arts' nature trail.
The Esposito Trail '€" There are lots of places in Nyack to catch this path. I like to park on Brookside, and walk south toward the Thruway '€" it will take you all the way to Sparkill if you let it.
Rockland Lake State Park – Accessed easily by 9W, there is a 3.2 mile paved trail here, as well as trails that connect to Hook Mountain and Nyack Beach.
Read more posts from Jennifer Hausler and see more Fall foliage pictures on the Nyack Backyard blog.